Dentures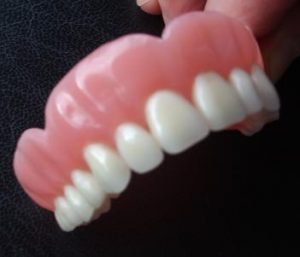 Complete or partial dentures are made to replace missing teeth and help to stabilize the bite and improve mouth function and aesthetics. This can be done at the same time as an extraction or when teeth have been missing for a while.
Steps:
The first step is to make impressions of your mouth and send them to the lab to make the prosthesis. The lab usually takes 2-3 weeks to create your dentures. We then set up a schedule of appointments to adjust the fit and comfort of your new dentures.
For dentures placed after extractions, it is normal to see the dentist several times after the extractions are done. We will use this time to adjust sore sports and achieve a more comfortable fit. You should wear the denture all the time for the first 24 hours to help reduce inflammation. After this, it is best to not wear your dentures while you sleep. During the first 6 months, we will use a soft temporary liner to increase stability and comfort as the bone shrinks. After 6 months, a permanent liner is processed for you in the lab and will help the denture remain stable for years.
If the denture is placed were teeth that have been missing for a while, it is normal to see the dentist a few times after the initial placement to adjust the comfort and fit of your new dentures. Temporary liners, however, will not be needed. On average a lab processed liner will be needed every 3-6 years as the bone slowly changes and shrinks up. An ill fitting denture will cause a more rapid loss of bone so we advise to maintain a tight fit.
Eating and chewing:
When getting new dentures, it may take several days to weeks to become acclimated to chewing so a softer diet is always best to start with. Learning to est with food on both sides will help keep a denture more balanced.
Soreness and Sensitivity:
Sore sports on the gums are normal with a new denture. An average of 3-4 adjustments (more for dentures placed after extractions) is usually needed to fine tune the fit.
Maintenance:
Removing your dentures at night is essential to keeping your gums healthy. They should be cleaned at night with a toothbrush and toothpaste, rinsed off, and stored while slightly moist (with water or mouthwash). Relining a denture on average every 3-5 years will create a tighter fit as the bone shrinks over the years. This will also promote healthier bone and gums in the long run.